Municipal Utility Billing Solution
Efficiently and centrally manage utility billing and collections.
For a local public authority, utility billing can be a tedious and time-consuming process. From ensuring proper usage tracking to addressing resident questions and managing the collections process, the utilities department has a lot to accomplish in a short period of time. These challenges are amplified without an effective utility bill management software solution in place.
As a leader in the local government space, Edmunds understands the unique challenges associated with utility billing and collections. That's why we developed our municipal utility billing software to streamline your daily workflows, mitigate time-consuming manual processes, and deliver the comprehensive reports you need. Our utility billing software seamlessly integrates with our full suite of solutions, including your General Ledger, and enables your residents to easily submit payment through our Online Bill Pay solution.
Would you like to learn more about our utility billing solution? Request more information using the form below, or continue reading to access relevant insights and resources.
Edmunds GovTech proudly serves over 1900 local government agencies in 26 states.
Fill out the form below to learn more about how we serve local authorities.
Request More Information
Solution Spotlight
Utility Billing & Collections
Edmunds GovTech's Utility Billing & Collections module powerfully enables more efficient and effective utility billing. With unlimited utility rates, meter reading integration, service shut-off functionality, and more, our solution enables you to accurately track usage and streamline billing processes. In addition, it easily integrates with Online Bill Pay to reduce manual data entry, provide real-time insights, and make your life easier.
Find out more our public utility bill management software.
You might be interested in…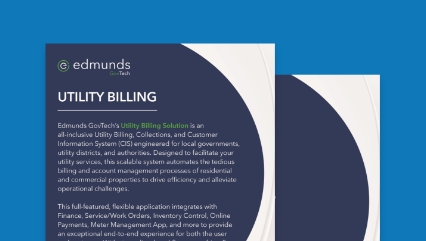 SOLUTION SHEET
Utility Billing & Collections
Learn more about how our Utility Billing module empowers your local government or utility district to achieve greater efficiency.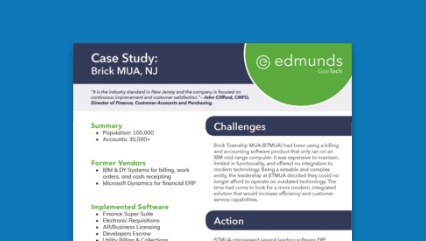 CASE STUDY
Brick Township Muncipal Utility Authority
Learn how Brick Township's public utility authority implemented our Utility Billing & Collections module and more to transform their day to day operations.